1. Introduction
In the oil mining industry, the management of the pumping wells is the key link in the oil field management. The distribution of oilfield wells is scattered, remote, inaccessible, and natural environment is bad. The traditional manual inspection mode is slow, with many errors, long cycle, and can not be real-time monitored. The operation efficiency of pumping units is low.
The traditional judgement of working state of pumping units is mainly based on the experience of workers. It is not timely for oil wells to detect safety hazards and production accidents, and can not meet the requirements of modern petroleum enterprises in information and intelligent management. With the expansion of oil production scale, more and more inspectors are needed, so that the cost of oil production is getting higher and higher, which affects the development of oil enterprises. Therefore, real-time monitoring the running state of pumping unit in oil field has become a maintenance problem.
2. Solution
The pumping unit remote monitoring and maintenance system adopts distributed structure, the high precision sensor monitoring of pumping unit load, the motor three-phase current, voltage, stroke, and indicator diagram, current and other parameters, all on-site operation parameters sending to the center by Baima BMD100 DTU. The management center automatically determines whether the pumping unit works normally according to the overrun value set at the backstage of the monitoring station, and gives alarm information, and inform the relevant personnel to take measures.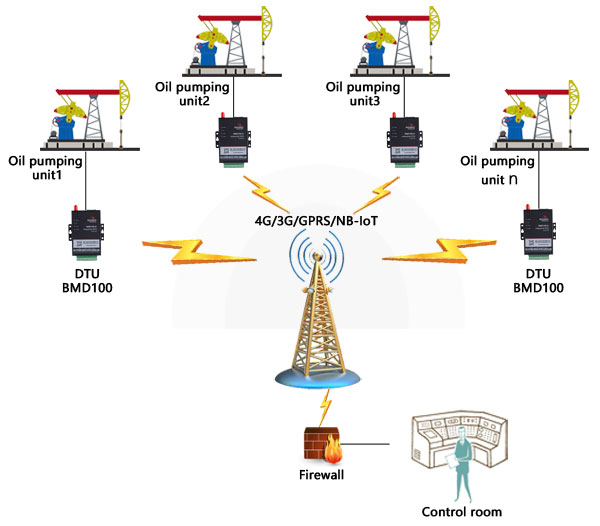 Mainly parts of the system:
Platform: mainly composed of server, system platform, database and so on, responsible for data analysis and processing.
Transfer terminal: use Baima DTU, responsible for wireless data transmission, sending the data of pumping unit to the platform.
Sensor: mainly composed of various sensors, such as current and voltage sensors, responsible for monitoring real-time data of pumping unit.
3. The features
Real-time monitoring: DTU connect to the sensors by RS485, I/O and other interface for real-time data monitoring, and real-time collecting operating parameters.

Wireless data transmission: DTU dial-up to establish a connection with the server, real-time sending operating parameters to the server, to realize remote wireless data transmission.

Fault alarm: BMD100 industrial DTU real-time collect fault information of oil pumping machine and reporting to the server, the server will process and analyse the data, real-time alarm, and can also predict the fault.

Cloud management platform: centralized and unified management and remote monitoring and maintenance of all terminal units.
4. Recommended product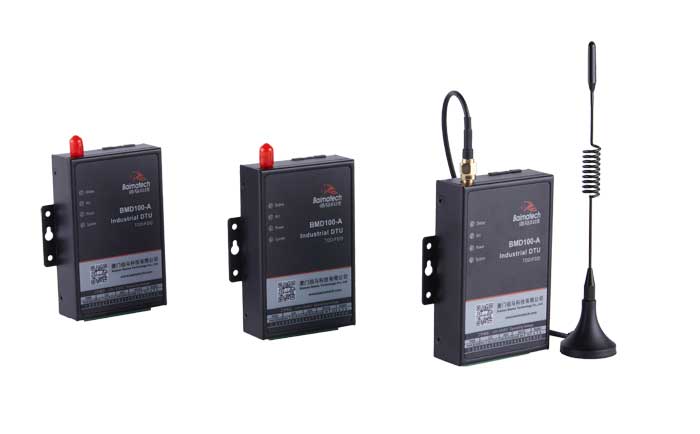 Based on 4G/3G/2.5G carrier network to provide a stable and reliable wireless communication network and transparent data transmission. Without wiring, power on to remote monitoring and management of the units. It has the advantages of rapid networking, flexible expansion, short construction cycle, low cost and so on.
A unified business view, unified monitoring, unified management and unified scheduling will be carried out to create new commercial value. The equipment monitoring network, intelligence, long-distance, real-time and visualization can be realized, so as to achieve coordination and assistance between equipment manufacturers / users / maintenance supervision units, which greatly reduces maintenance costs and improves management efficiency.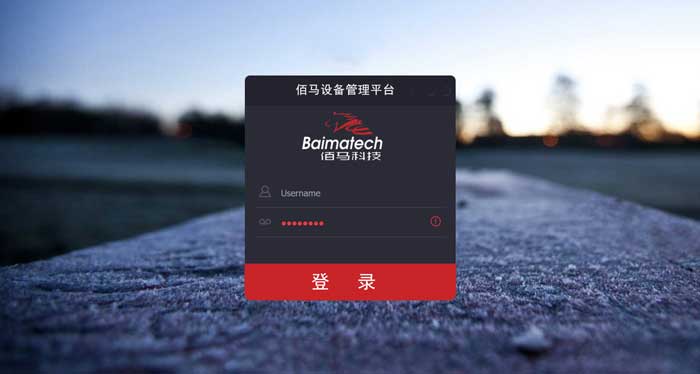 5. Product features
Rich interface, configuring RS232, RS485, I/O, ADC and other interfaces to collect analog, digital or switch data

4G/3G/2.5G network full coverage of domestic and overseas operators network with approved

Industrial design and application, stable operation under harsh environment, high and low temperature (-35 to 75 degrees), wide pressure (5V-35V)

Stable and reliable communication, multi technology guarantee wireless connection "permanent online", unattended environment application

Financial level data security, support private network access, more secure data transmission

Support data multi center synchronous transmission

Strong signal searching ability, strong signal receiving ability

Compatible with commercial power supply, solar power supply, battery power supply, ultra-low power consumption

Self locking card slot for long term use
Special equipment management tools for centralized monitoring, configuration, upgrade and diagnosis of a large number of distributed data terminal units, greatly reduce the maintenance cost of the operator, system integrator, equipment providers and other parties, improve the efficiency of management.