Ⅰ. Smart Site Project Background
The construction site is a complex area with complex personnel. An effective intelligent site and remote monitoring system is very necessary for managers.
Around the field personnel, equipment, materials, environment and other data and information, the construction of "smart site" generally includes site video monitoring, tower crane safety monitoring system, hook visualization system, construction elevator safety monitoring system, dust monitoring system, noise monitoring system, energy management system and so on.
Ⅱ. Wireless Communication Network and Working Principle of Smart Site
In general, intelligent site construction is divided into three levels: smart site collection layer, smart transport layer, smart site application layer. The typical networking of smart site is as follows: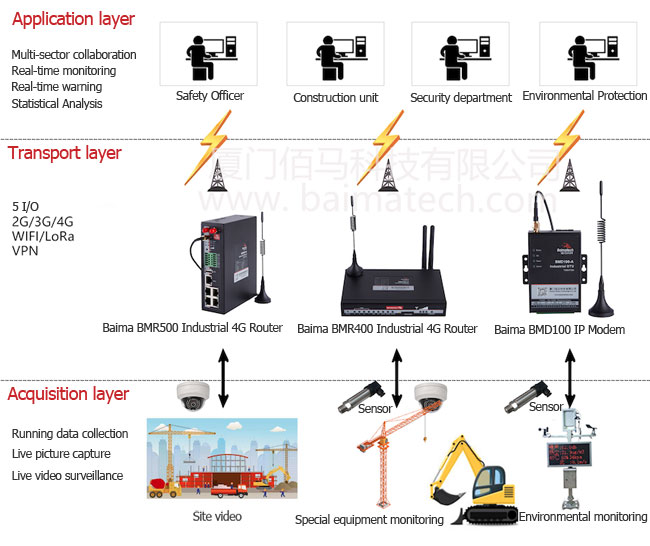 Through the deployment of video cameras and various monitoring index sensors, the collection layer realizes real-time video shooting and site picture capture, and realizes data collection of special equipment, such as tower crane, hook, elevator, excavator and so on, and realizes data collection of environmental protection elements including noise and dust.
The data collected at the front-end is transmitted to the field management department or the remote management center through the transport layer. The intermediate transport layer is the most important bridge for data uploading and back end management instructions. According to the characteristics, frequency and size of the collected data, the customers can choose industrial 3G/4G router, DTU, NB-IoT terminal, Wi-Fi router and so on. Baima one-stop service provides strong communication guarantee for wireless access, wireless coverage, wireless communication and wireless operation of each subsystem of smart site.
In the application layer of smart site, Baima wireless transmission terminal can synchronize 5 channels to transmit data, which is convenient for site management, construction units, equipment leasing units, safety supervision departments, environmental protection departments and other real-time monitoring, efficient management, multi department coordination and so on.
Ⅲ. Application Advantages of BMR400 Cellular wifi Router in Smart Site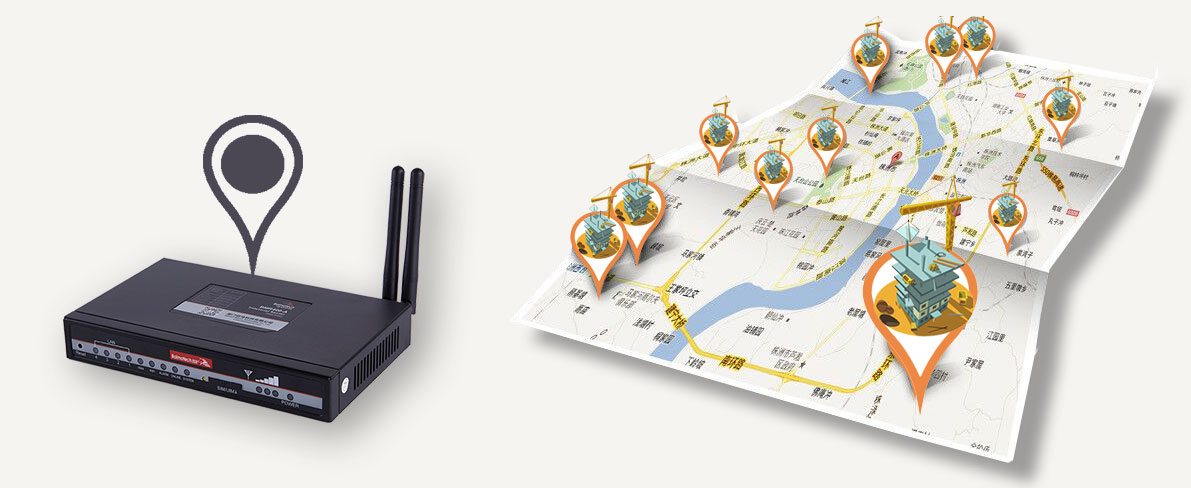 ● Simple and rapid network: without wiring, Baima wireless router can make a simple configuration, communication distance is not restricted, the 5 centers is transmitted synchronously, and it is convenient for all departments to monitor, remote monitor, and cooperate with each other.
● Convenient expansion: smart site subsystems can be built or phased in one time according to the needs of the project. The full, flexible adaptability and extensible capabilities of Baima industrial wireless routers are well suited to the needs of the construction of the project, effectively reducing the initial investment and in the same time the existing systems can be obtained in the future. With sufficient utilization, the existing investment will not be wasted in the future, and will facilitate the expansion and upgrading of the system.
● VPN: Baima industrial wireless router has powerful VPN function, virtual special network and a variety of secure transmission mechanism, which can encrypt the transmission process by VPN, so as to meet the information security requirements of the government management departments of security supervision, environmental protection and so on.
● Cost saving: the wireless communication system is charged only when the traffic flow is generated, charging according to the amount of data transmission, charging more scientifically and reasonably, making online monitoring system running online 24 hours a day with low price.
● Permanent online: Baima industrial wireless router built-in multi-layer watchdog, guarantee equipment to keep online, if there is a drop, the internal mechanism immediately forces the equipment to restart, to ensure the system permanent online.
● Remote configuration and upgrade: in the application of smart site, the wireless communication terminal is usually installed in high places such as tower crane and hook. It is not easy to maintain and upgrade. Baima industrial wireless router has the function of wireless configuration and upgrade, which provides great convenience for the work of field managers and remote managers.
Ⅳ. Product Configuration of BMR400 Cellular wifi Router
Baima BMR400 industrial wireless cellular wifi router has the advantages of quick and flexible networking, short construction cycle and low cost.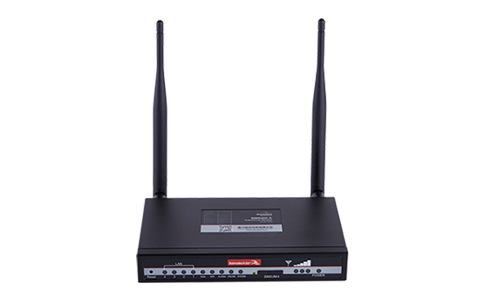 1. 4 x LANs, 1 x WAN, 1 x RS485, 1 x RS232
2. 4G to WIFI facilitate equipment rapid access and local configuration
3. WAN can act as LAN
4. Max 32G storage
5. Multiple hardware and software technology guarantee connection "permanent online"
6. VPN special network and other multiple security mechanisms
7. 4G/3G/2.5G network with courier approval
8. Industrial grade design, high and low temperature (-35-75℃), wide voltage (5-35V)
9. Durable self locking card slot
10. Linux secondary development
11. Configuration parameters can be saved, support parameter backup and import
12. Equipment management platform, centralized monitoring, configuration, upgrading, diagnosis of a large number of distributed routers
13. GPS positioning function (optional)