Monitoring and Application Background of Tower Crane
Multi department coordination management needs: tower crane or tower crane is the special equipment in the construction site, management departments include tower crane rental unit, tower crane maintenance unit, site management, construction management unit, government security supervision department and so on.
The site management needs: in the past, tower crane driver hoisting materials, need SSI, command and so on through interphone coordination and communication to work. Even so, because of the height of the tower crane and the blind area of sight, the hook hook or hook off of the tower crane often occurs, which causes the material to fall and cause the safety accident.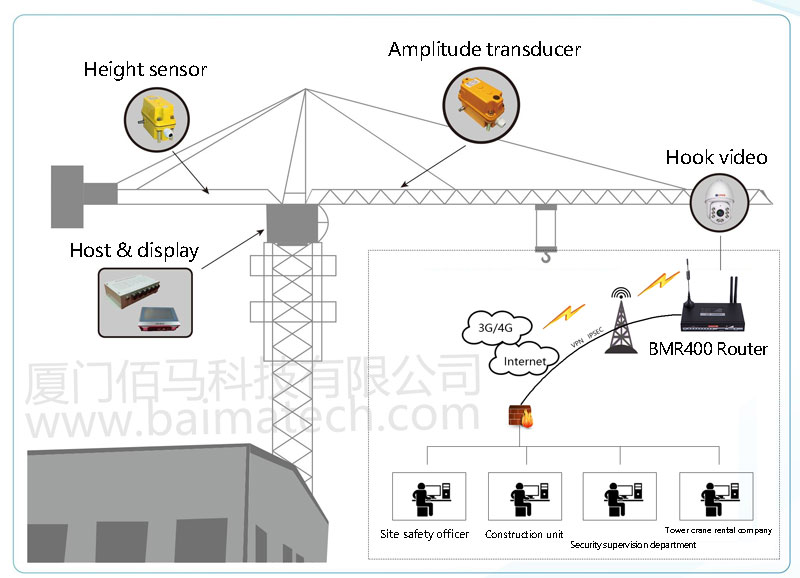 Remote Monitoring and Application of Tower Crane
The monitoring system of tower crane for special equipment is based on sensor technology, embedded technology, data acquisition technology, wireless transmission network and data fusion processing technology to realize automatic alarm and control of dangerous operation, remote monitoring, remote alarm and remote notification of all weather 24h real-time dynamic, remote alarm and remote notification. Control is an open, multi stakeholder real-time dynamic monitoring.
The construction of smart site is by deploying video cameras on site, monitoring index sensors, realizing industrial video real-time shooting and site picture capture, and realizing the data acquisition of special equipment such as tower crane, hook, elevator, excavator and so on, which is based on 4G/3G wireless communication through BMR400 Cellular wifi Router. The tower crane monitoring system is used to monitor the hoisting hook video, anti collision calculation, weight limit, torque limit, height limit, amplitude limit, angle limit, wind speed alarm, main track anti tilt, real-time display operation parameters, and ultra limited sound and light alarm.
Application Requirements of Wireless Communication for Tower Crane Monitoring
BMR400 high speed and high bandwidth industrial wireless router, which is the first choice for high speed wireless transmission of video/picture data. It can display real-time video images around the hook to the crane driver in real time, so that the driver can quickly and accurately make the correct operation and judgment, and can effectively avoid the accident.
Through BMR400 industrial Cellular wifi Router, managers can monitor the lifting weight, lifting torque, amplitude, height, work return angle, wind speed, overloading, regional limitation and collision protection. When the tower crane appears overrun, overweight and fast collision, it realizes automatic warning and control.
BMR400 industry wireless router can select GPS positioning function to realize GPS location of the tower crane, the location distribution of the tower crane group equipment, and meet the needs of the remote management of the leasing company.
It is convenient for the tower crane maintenance unit to carry out unified business view, unified monitoring and unified management for the scattered tower crane. The operation of tower crane is clear at a glance, it can plan to arrange foreseeable maintenance, improve the efficiency of failure maintenance, reduce travel cost, produce new commercial value for customers, and greatly improve customer satisfaction.