1. Background
Urban water supply network is one of the most complex pipeline networks. Because of its deep buried underground, it is very difficult to supervise and maintain. The characteristics of wide distribution, large quantity and high complexity lead to the difficulty of collecting abnormal information of urban water supply network, and the difficulty of solving fault problems, resulting in a lot of economic losses. How to put the production monitoring, scheduling, data analysis and unified model of business management of city water supply network system to a comprehensive platform, and the whole process of production operation data of water supply (water flow, water pressure, water quality, water source, reservoir, water plant, pump station, pool, etc.) transparent decision-making process analysis, operation visualization acquisition and storage and scheduling, become the focus of concern of government departments.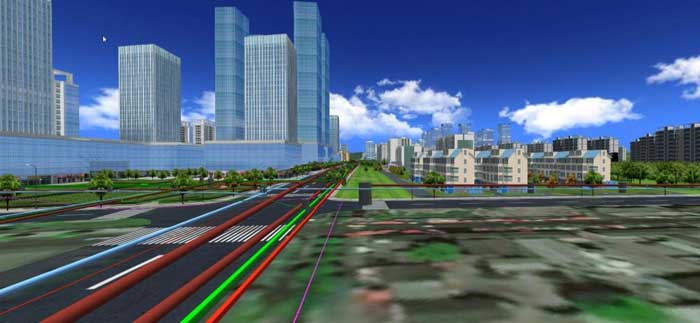 2. Solution
Baima city water supply network monitoring system, relying on networking and wireless communication technology and sensor technology, the implementation of water supply pipeline of unmanned remote real-time monitoring, real-time monitoring of water pipelines, city water supply pipeline pressure and flow of information transmission to the superior management department; timely detection of network failure, improve maintenance efficiency, reduce loss, water security water quality and reduce the cost, to achieve a scientific warning.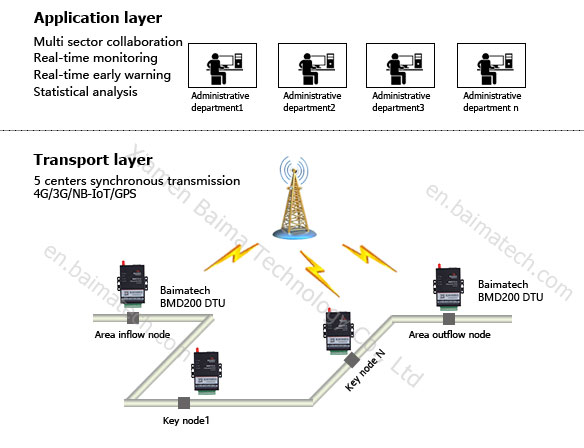 The monitoring system of urban water supply pipe network is mainly composed of the following parts:
Sensor terminal: mainly composed of pressure sensor, flowmeter, flow meter and so on. It is mainly responsible for monitoring the pipe network information of water supply nodes, including pressure, flow rate, flow rate and so on.
Data transmission terminal: main use Baima BMD200 DTU series. It is mainly responsible for connection of front end of all kinds of sensors and system platform, providing wireless data transmission channel. BMD200 adopt module integrated design solution, which has the advantages of fast and flexible networking, short construction period and low cost according to the requirements of industrial standards and industrial users.
Platform end: it is mainly composed of various servers, platform software, database and so on. Mainly responsible for data collection, processing, warehousing, equipment control and operation management of the whole system.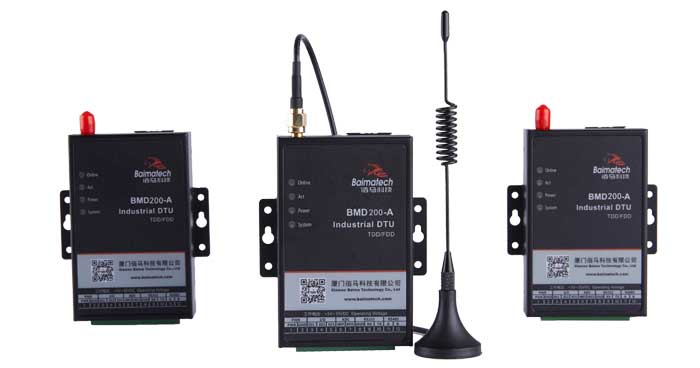 3. The advantages
Real-time monitoring: DTU connect with sensor through RS485 and IO ports to achieve real-time monitoring of pipelines, real-time collection of various real-time operation parameters of pipes and upload the data to 5 management centers simultaneously.

Wireless data transmission: using Baima BMD200 DTU dial up the Internet, and connect with the server, and send the operation parameters of the pipeline to the platform in real time.

Automatic fault alarm: DTU can collect pipeline fault information in real time and report it to the platform. The platform can process and analyze data, achieve real-time alarm purposes, and predict faults at the same time, and reduce losses.

Centralized cloud platform: through Baima cloud management platform, centralized, unified monitoring management and remote operation and maintenance of all terminal products are realized.

BMD200 DTU, equipped with special equipment management tools, centrally monitors, configuring, upgrading and diagnosing a large number of communication terminals distributed around the country, which greatly reduces the maintenance cost of operators, integrators, equipment providers and other parties, and improves management efficiency.

BMD200 DTU embedded with rich protocols (support Modbus RTU, Modbus TCP, etc.).

BMD200 DTU can customize private protocols according to the project, and upload the data according to the protocol.

BMD200 DTU with rich interface, equipped with I/O, ADC (optional), RS232, RS485 and other interfaces, to facilitate the front-end connection of all kinds of intelligent devices, to collect analog, digital or switching data.