BMR400 Cellular wifi Router Front panel schematic:


Rear panel interface schematic:

Installation steps are as below:
Ⅰ. Use ordinary SIM card (IOT card):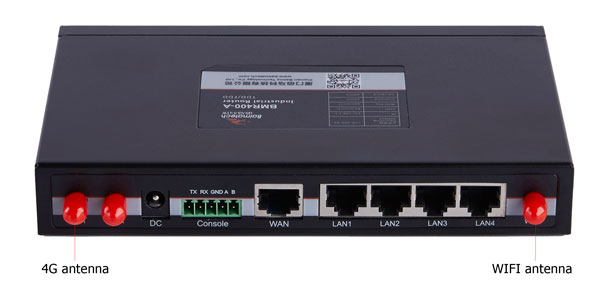 1. Install 4G antenna on antenna interface, and WIFI antenna on WIFI interface
The antenna is the necessary accessory for the router to enhance the signal. It must be properly installed to achieve the best experience of the Internet. Antenna interface of Baima industrial cellular router is SMA female socket, screw antenna SMA male tight to ANT interface, so as not to affect the quality of the signal.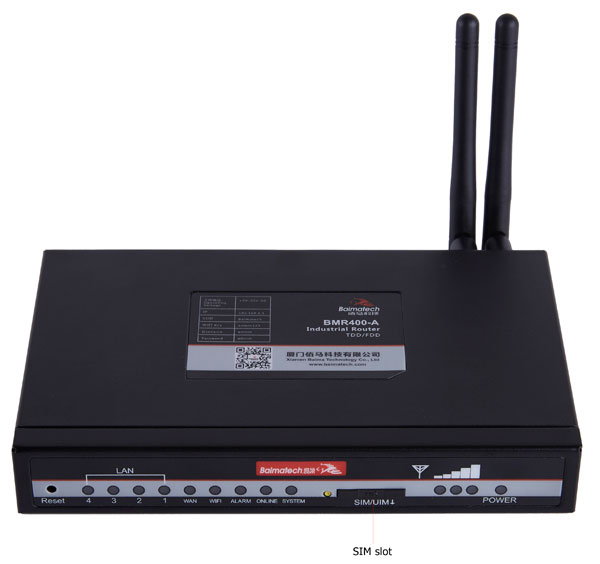 2. Use the needle to remove SIM slot and install SIM card.
SIM/UIM card is the necessary for wireless router dial-up, so SIM/UIM card must be installed correctly. The operators provide SIM/UIM card with multiple standards, the router use standard SIM card. When installing first spike into small yellow spot next to SIM/UIM, pop-up card slot. SIM/UIM metal chips placed on the outward SIM/UIM card slot, insert the drawer, and ensure that the inserted in place.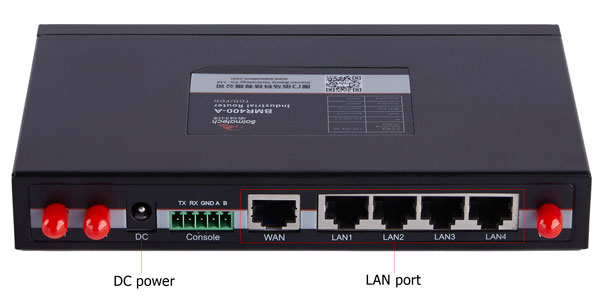 3. 5~35V DC power supply at DC power supply interface, LAN port access device RJ45 network

The router with RS232 and RS485 serial port, serial port can be used for router firmware upgrade, system log view, serial DTU function.
Can use standard 1.5A/12VDC power supply, also can use 5-35VDC power supply to power the device, when the external power supply to power the device by the user, must ensure the stability of power supply (ripple less than 300mV, and ensure that the instantaneous voltage is not more than 35V), and ensure power supply more than 4W.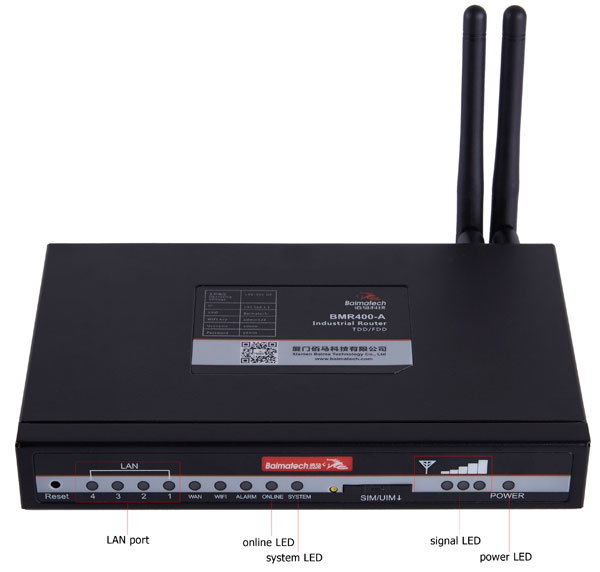 4. A minute or so after DC power supply, if the device is normal, the indicator of LAN port which internet access flashing, online LED is always on, system LED flashing per second, signal LED will on 1~3, and power LED will always on.
Indicator LED is the most instinctive display of the router's running state. It can easily, quickly and accurately judge the running state of the router from the state of the indicator.
Ⅱ. Use the APN card (APDN special network card)
1. As mentioned above, 4G antenna connect to ANT interface, SIM card is installed at the position of front panel SIM card slot, and DC 5~35V power input is provided.
2. Enter configuration interface and click: Set - WAN, fill in the interface with the corresponding APN information as below: