With the popularization and application of the concept of Internet of things, the ubiquitous Internet of things all needs the connection of the network. industrial field intelligent equipment wireless communication and data transmission need 4G and WIFI. Wireless communication and networking become the infrastructure of the Internet of things.
Through Baima industrial cellular router 4G to WIFI function, industrial field WIFI coverage can be realized, and the subordinate devices can be connected through WIFI. It can be easily monitored, configured, debugged, and troubleshooting. In some dangerous fields that are not easy to access or are not convenient for debugging operation, we can use 4G to WIFI function of Baima industrial wireless router to implement equipment management and control.
4G to WIFI also provides a good network access solution for the production safety monitoring, scheduling and control of industrial site with inconvenient wiring. The equipment and machine networking, vehicle logistics management, plant safety monitoring and equipment checking are implemented to achieve wireless access, which not only improves production safety, but also greatly improves operation efficiency.
How WiFi configured, how turn off and open, and how many devices are suitable to access at the same time.
Enter industrial cellular router configuration interface → Wireless as below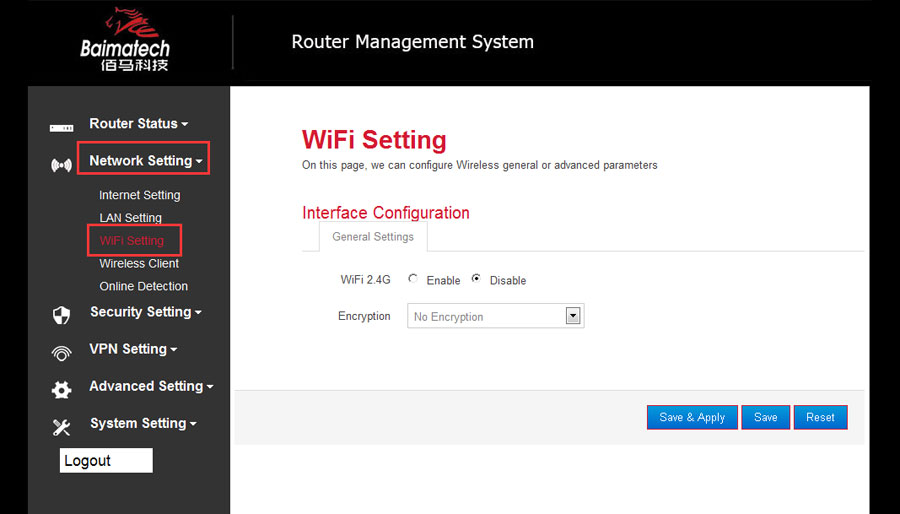 Considering speed limit and user experience, it is suggested that WIFI access of lower machine devices is not more than 32 sets.