Recently, organized by Shanghai Pudong Intelligent Lighting Federation, Xiamen Baimatech, Shanghai Sansi, Xinuofei, Shanghai Liantong, Halsey, and other enterprises jointly participated in the drafting of the"Smart Lamp Pole Gateway Standard(T / SILA 005-2022)" (hereinafter referred to as the "Standard"), officially released and implemented.The release and implementation of this group standard provides scientific standard guidance for the selection and application and deployment of gateway equipment in the smart lamp pole project.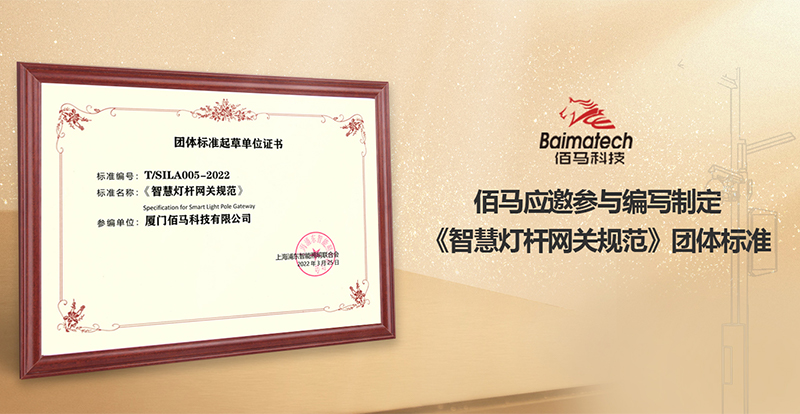 The special specification of the smart lamp pole gateway
has practical guiding significance
With the construction of smart street lamp poles in many cities across the country, the Internet of Things application scenarios built around smart street lamp poles have become more diverse and complex. In this case, the relevant local standards and national standards for smart street lamp poles have also been introduced and implemented in recent years.
The "Standard" organized by the Lighting Federation is specifically aimed at the key equipment of the smart lamp pole gateway, and clarifies the functional categories of the smart pole gateway, power supply configuration, safety requirements, electromagnetic compatibility requirements, technical application requirements and reliability requirements, etc., which has very practical guiding significance for the field construction and deployment of the smart street lamp pole system.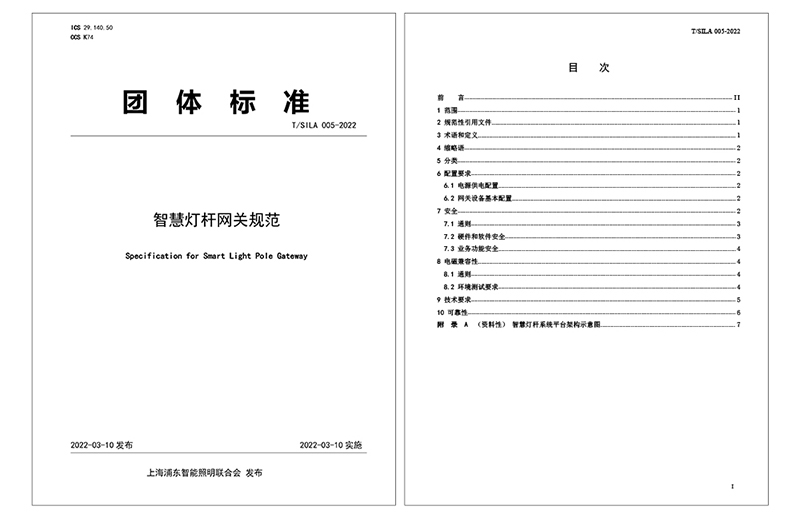 Based on the shortcomings, it fully covers gateway applications
In the process of formulating the "Standard", Baimatech's engineers relied on the scientific program design and project front-line experience, summarized the shortcomings perceived by the industry over the years, and put forward the physical interface requirements, environmental requirements, working power requirements, material requirements, protection mechanisms in hardware; We also put forward dozens of items such as gateway management system, south/north communication requirements, edge intelligent strategy, communication support, power monitoring and control requirements, communication and security in software, etc., to help the "Standard" be broader. Cover every detail of the deployment of the smart street light pole system in depth, and create a stable, reliable and efficient smart pole solution.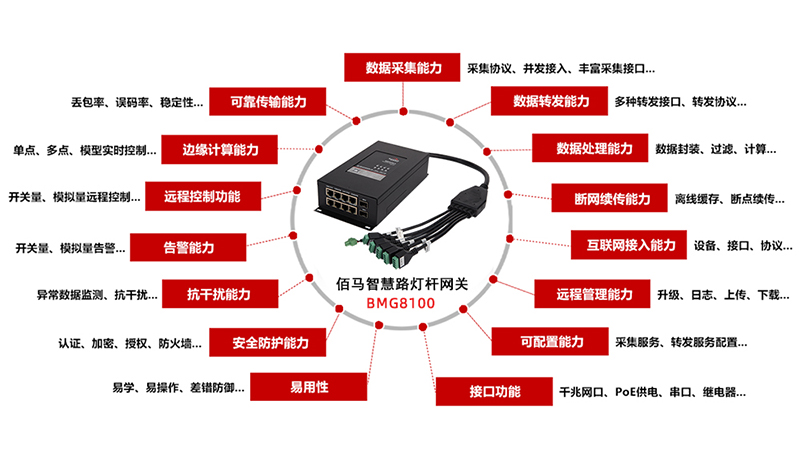 Based on the gateway standard
we develop practical and innovative designs
Baimatech continues to be committed to technological innovation and standardization construction, and has now launched a variety of smart street lamp pole gateways such as the innovative and practical BMG8100 small-volume leaded smart pole gateway, the BMG8200 integrated power management intelligent gateway, the BMG8500 closed smart pole gateway with IP65 protection, and the BMG5100 Gigabit 5G intelligent gateway, BMG500 ultra-cost performance edge gateway, etc. It has also assisted customer partners to build and operate a large number of demonstration projects of smart street light poles in many places across the country.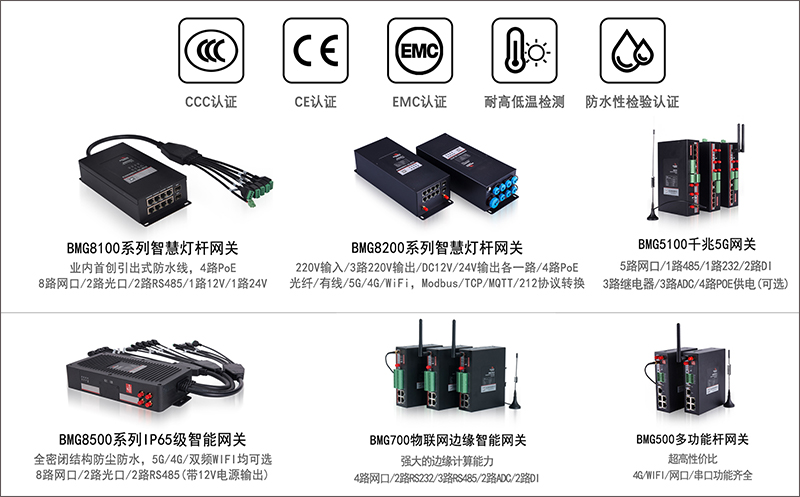 With the further improvement of the software and hardware specifications related to smart street lamp poles, the smart street lamp pole industry will move towards a new stage. Baimatech will continue to uphold high-quality, strict standard product thinking, provide the industry with more and better smart street lamp pole gateway products, and help the industry prosper.