On 1 September,2020, the ISLE International Summit Forum of 5G intelligent lamp pole was held in Baoan New Pavilion of Shenzhen International Convention and Exhibition Center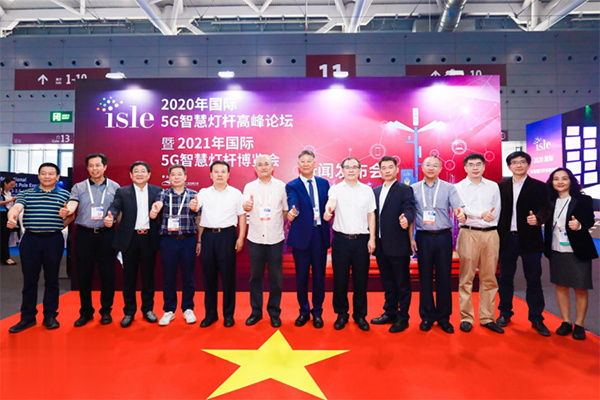 the ISLE International Summit Forum of 5G intelligent lamp pole
Xiamen Baima Tech and relevant government departments, industry experts, the academic authority, on behalf of foreign consulate, leading enterprise representatives gathered which discussing the intelligent lamp pole of industry standards and norms , planning layout, business model, successful cases, industry status and future trends, contributing products, solutions and wisdom for the construction of 5G intelligent lamp pole and smart city.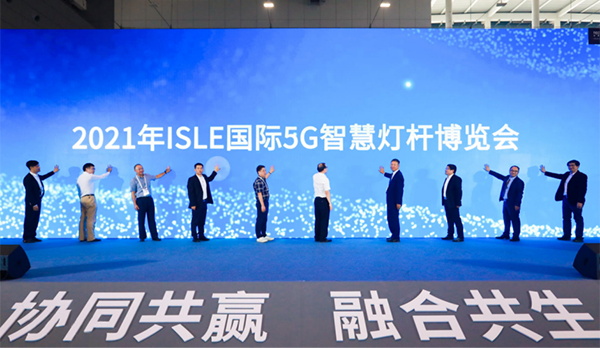 What has happened to the intelligent lamp pole industry?
What is the future trend of the intelligent lamp pole industry?
How is big the scale of intelligent lamp pole?
What is the competitive pattern of intelligent lamp pole industry?
Intelligent lamp pole cases and current Problems?
Relevant government departments, industry experts, academic authorities, leading enterprises representatives from different angles to discuss and exchange.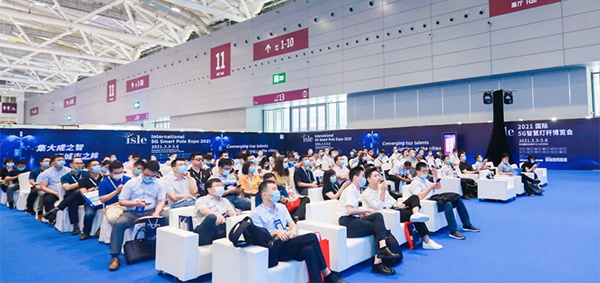 New infrastructure integration brings the new ecological of 5G intelligent pole, on the forum, from present situation and future of 5G and smart city construction which the forum guests boosted to research the systems application and technical standard system of multi-function intelligent lamp pole system and positive sharing the smart lighting industry transformation and upgrading, 5G tower base station construction and intelligence, the application and operation of trend of intelligent pole, 5G scene of overall project the ground experience, smart city construction technology and organization to upgrade, etc.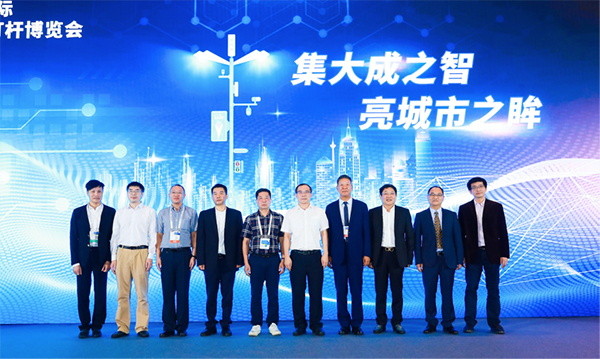 Aiming at the vertical application scenarios of intelligent pole, multi-function pole, smart combination pole, smart lamp pole, 5G lamp pole and other subdivision, Baima Tech provides a rich product portfolio, including smart pole centralized control gateway, pole loaded equipment, smart pole cloud platform, protocol and driver matching, etc.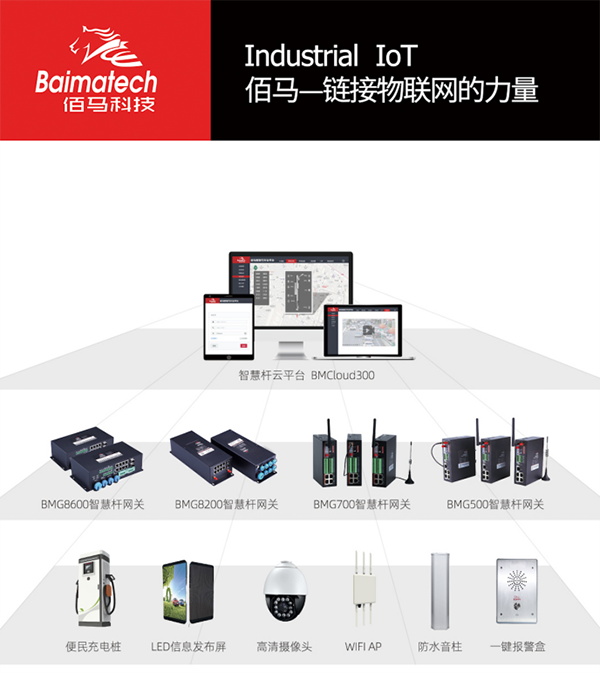 Baima Tech provides a rich product portfolio
In the 5G Smart pole display and experience area, Baima Tech and its partners in the smart pole industry concentrated on displaying the intelligent gateway product line for the application of smart pole, 5G smart light pole products and supporting facilities, operation mode, technology and industry solutions and other contents of the whole industrial chain.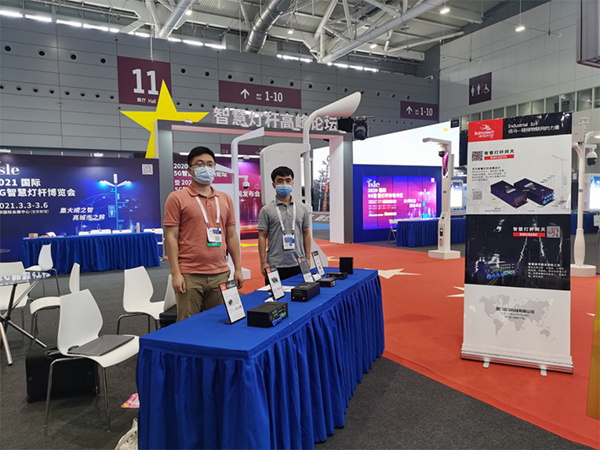 Baima Tech displaying the intelligent gateway product for the application of smart pole
Combining with the real elements to fully demonstrate the "highway", "urban trunk road", "business prosperous area road, avenue of stars", "commercial residential community way", "industrial park road" the five scenarios, making exhibition customers fully experience the wisdom rod rod in the application of urban trunk road, wisdom in the park, the wisdom of the application of rod application in commercial block, etc.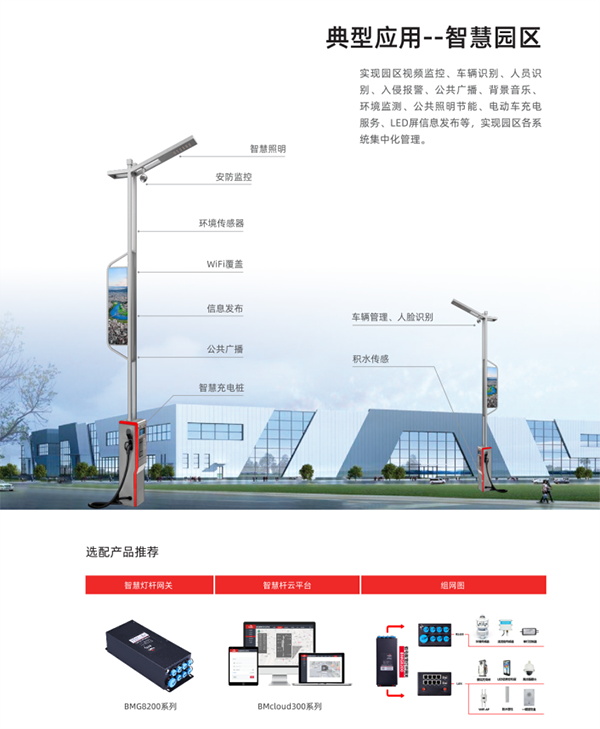 Application of smart pole in the park
Baima BMG8200 and BMG8600 series intelligent gateway are dedicated to the scenes of intelligent pole, 5 G lamp pole, intelligent street, gathering the powerful function of edge computing, AI, optical transceiver,router, interchanger and protocol stack to realize rod load device access, data acquisition, optical fiber, such as 4 g wireless communication and network communication, AC/DC power supply, power control, remote control, linkage control, real-time alarm, etc.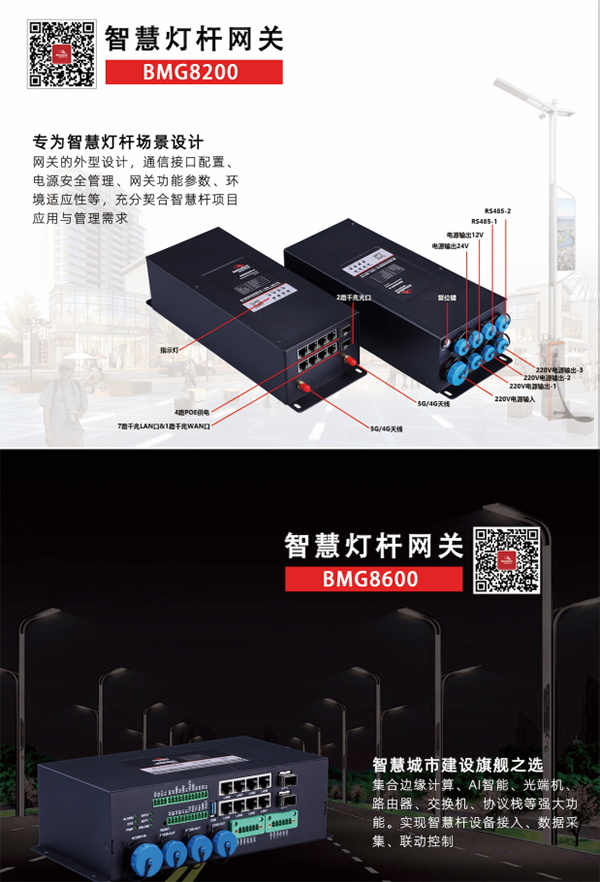 Baima provides the power of link the IoT for users and integrates product research and development, production and manufacturing, and cloud platform service to provide OEM and customized development, and rapidly creates product competitiveness for customers.