20th April 2020, the National Development and Reform Commission clarified the construction and scope of new infrastructure for the first time, and proposed that the new infrastructure should mainly include information infrastructure, fusion infrastructure and innovation infrastructure. Among them, information infrastructure includes 5G, Internet of Things, artificial intelligence, data center and so on. 5G is the first of the new infrastructure, the key of digital infrastructure is promoting the transformation of digitalization, networking and intelligence, and the core driving force for the development of the IoT, artificial intelligence and big data.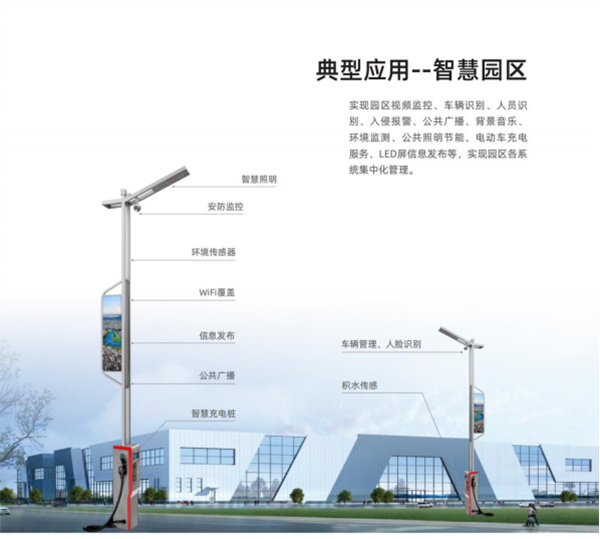 5G+ Lamp poles assist New Infrastructure construction
5G intelligent pole regards intelligent lamp pole as the core, realizing implanting hardware, superimposing software and expanding application. It is an effective embodiment of "Internet + smart city" and an effective carrier for smart city to realize iot perception platform. Recently, the "5G+ Lamp poles assist New Infrastructure construction" industry Forum was successfully held in Pudong, Shanghai. Guests included: academicians of Chinese Academy of Engineering, university experts, smart lamp poles management company, 5G construction company operator, smart light poles design and manufacturing company, smart city smart system design provider and so on.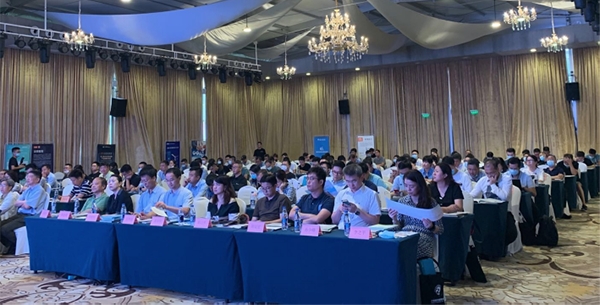 the industrial chain conference and theme forum of 5G intelligent Pole
Xiamen Baima Tech focuses on the communication and innovative application of industrial IoT, was invited to participate in the industrial chain conference and theme forum of 5G intelligent Pole, and displayed a number of smart gateway and cloud platform which dedicates to intelligent pole on the conference site. The four smart gateways on display are designed for intelligent pole projects in different scenes, such as smart city, smart park and smart scenic spot with advanced design, reasonable configuration and professional application, which have been highly concerned and recognized by industrial chain partners.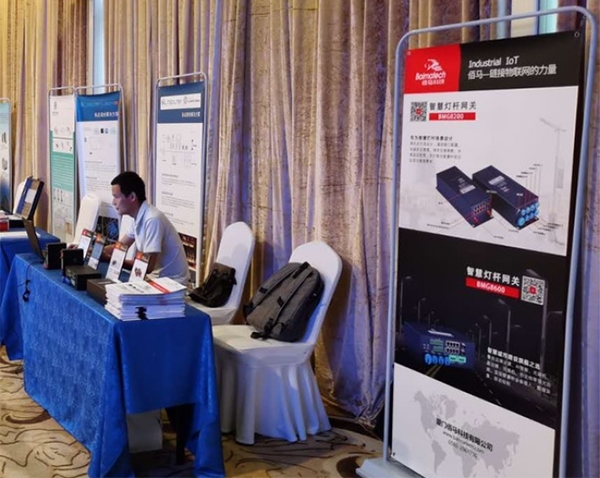 Xiamen Baima was invited to participate in the conference
Baima Technology and the participating guests jointly discussed the construction of intelligent pole under the background of new infrastructure, the development trend of multi-functional intelligent pole and the overall solution of the system, the innovative application of AI artificial intelligence in smart light pole, etc., and jointly planned the new ecology of 5G intelligent lamp pole.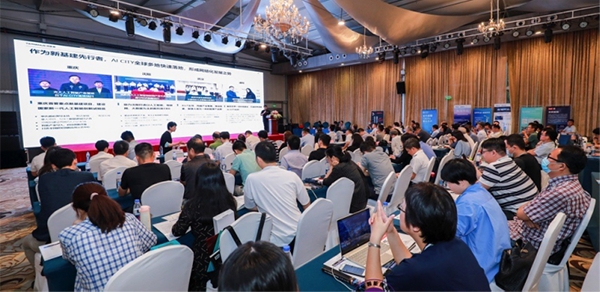 Through multi-perspective communication to explore the development direction and new cooperation mode of 5G integrated pole, realizing all-round integration link between 5G and integrated pole industry chain in project demonstration implementation, technical services, transformation of scientific research achievements, norms and standards, and improve the ecology of intelligent pole industry chain.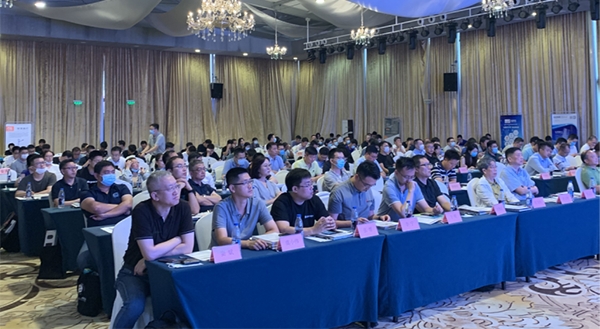 5G intelligent pole (integrated pole) realizes the sharing and carrying of 5G communication base station scale monitoring, bus priority, Wi-Fi ecology, environmental monitoring, emergency broadcasting, road lighting, traffic lights, signs and signage and other facilities. Intelligent gateway is the core of 5G intelligent pole, providing powerful AC and DC power supply, wired and wireless network access, intelligent management and so on for the devices shared on the intelligent pole.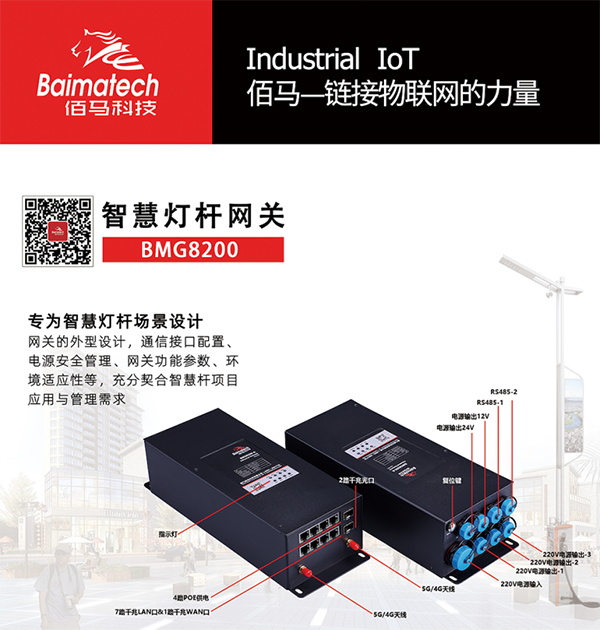 Intelligent gateway is the core of 5G intelligent pole
Baima BMG8200 and BMG8600 series intelligent gateway are dedicated to the scenes of intelligent pole, 5 G lamp pole, intelligent street, gathering the powerful function of edge computing, AI, optical transceiver,router, interchanger and protocol stack to realize rod load device access, data acquisition, optical fiber, such as 4 g wireless communication and network communication, AC/DC power supply, power control, remote control, linkage control, real-time alarm, etc.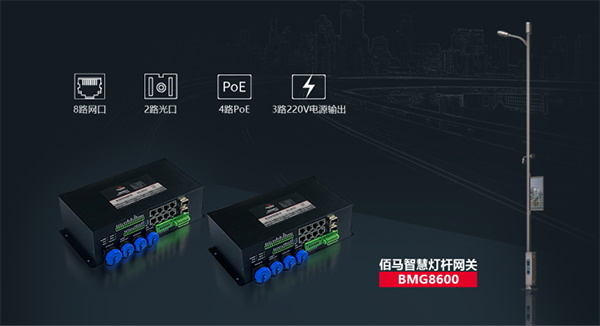 BMG8600 series intelligent gateway
Baima tech specially builds a cloud platform for intelligent pole application, which supports standard and customized application. The functions of the cloud platform includes: a picture of intelligent lamp pole, intelligent lamp management, environmental monitoring, video monitoring, LED information release, one-key alarm, WIFI system, charging pile management, public broadcasting system, smart manhole cover, water management, smoke alarm, GIS map, inspection management, system management, etc. The platform has powerful functions, friendly interface, easy operation and strong expansibility, and enjoys a good reputation on market.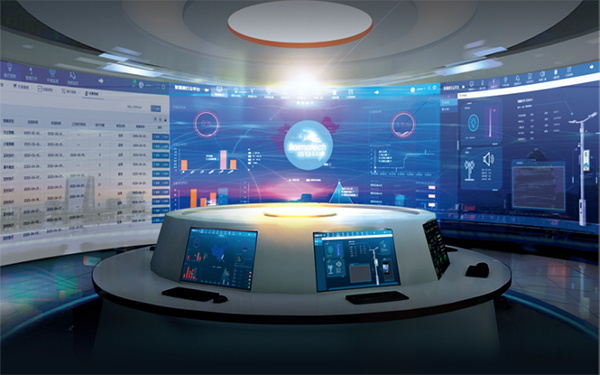 Baima tech specially builds a cloud platform for intelligent pole application