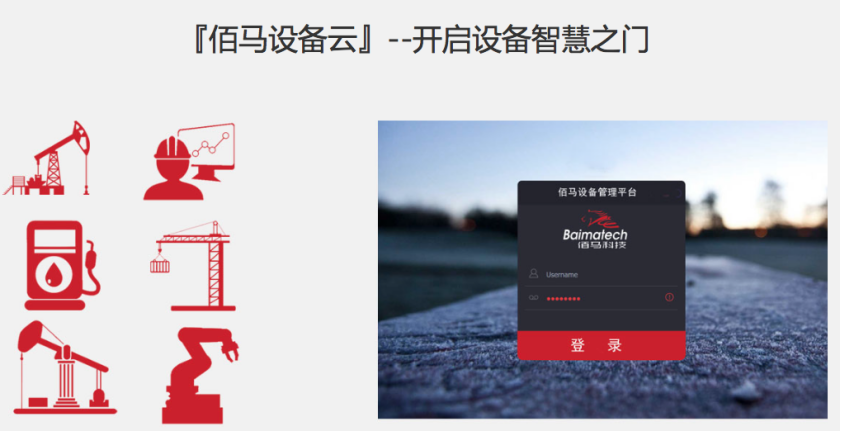 Are you still worried about unified access, monitoring and management of different protocols and scattered equipment in different places? Baima equipment cloud platform enables users to clearly understand the equipment status, effectively improve management efficiency, reduce travel costs, generate new business value for customers, and greatly improve customer satisfaction.
Baima device cloud platform functions include:Modbus/MQTT standard protocol gateway access device access, PLC, field video access, voice access, data storage, data real time display, historical data query, data custom alarm, equipment offline alarm, enterprise WeChat public, alarm, enterprise WeChat public, H5 application, sweep WeChat code landing platform, traffic management, data analysis (geographic analysis, correlation analysis, form analysis), application configuration, user management, etc.
Pls ask a account for free experience of powerful device cloud platform from Baima salesman.
Device cloud platform architecture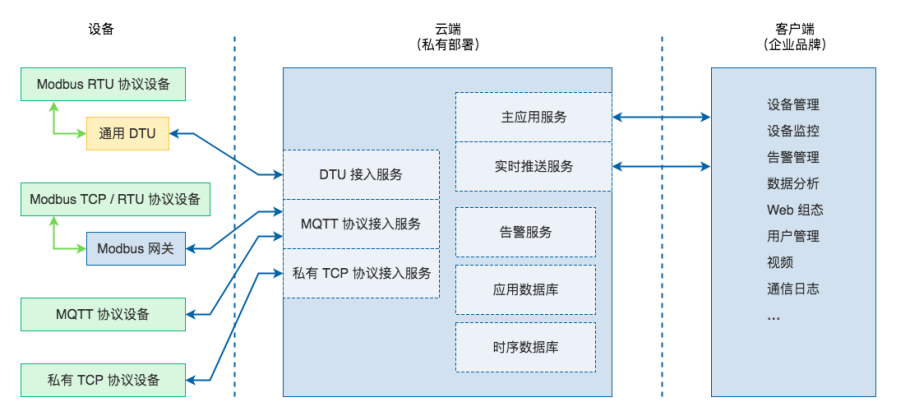 Supporting Modbus protocol device access, MQTT protocol device access, private TCP protocol device access, PLC gateway access, etc.
Modbus RTU protocol equipment, access to the cloud through Baima BMD100 series 4G full Netcom DTU. It has good compatibility with traditional serial devices, low access cost, and wide application range.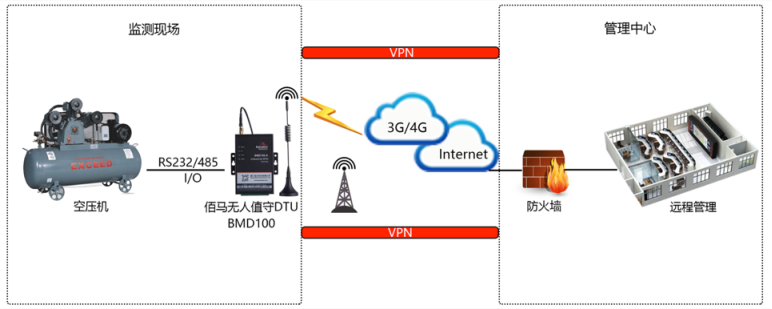 Modbus RTU/TCP protocol devices are connected to the cloud through Baima BMG500 series and BMG200 series industrial Internet of things gateways.

MQTT protocol devices connect to the cloud server through Baima BMG500 series industrial Internet of things gateway, BMG200 series industrial Internet of things gateway or through TCP long link, while the client connects to the cloud server through WebSocket protocol.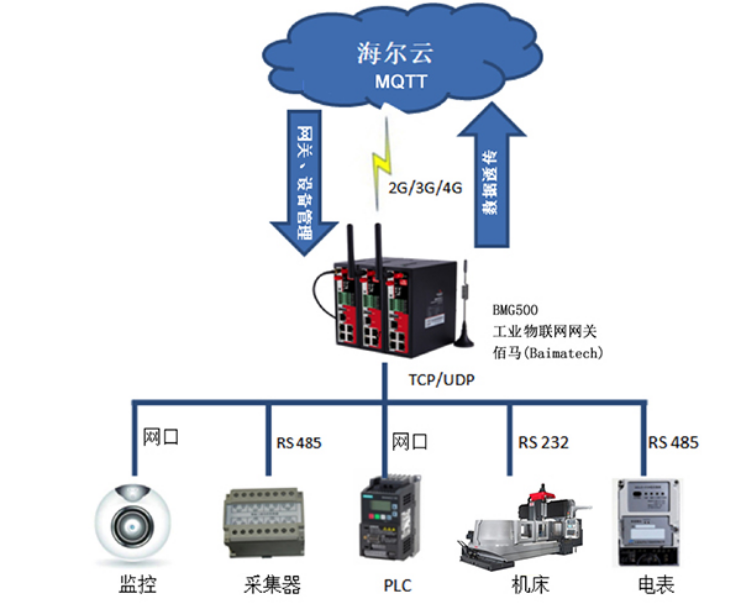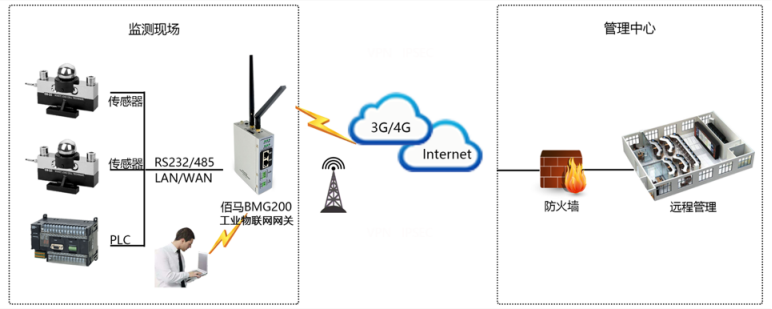 Equipment files, one picture overview
A picture gives a general overview of all the access devices, including device number, access time, device type, device remarks, communication protocol, address and location, etc., and the device state is clear at a glance.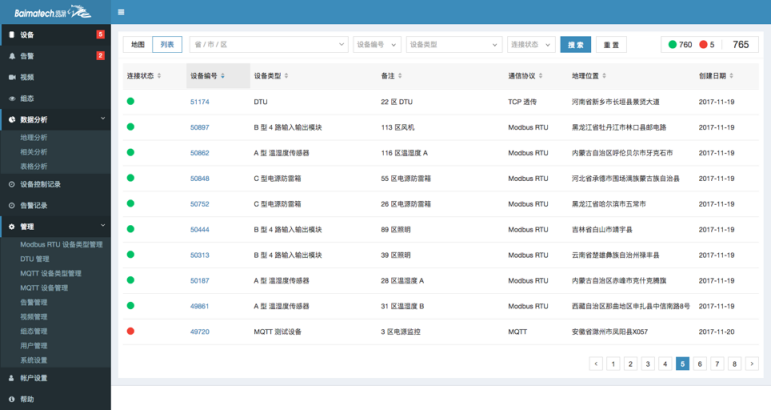 Equipment condition monitoring and control
Assist customers to understand each equipment clearly, including basic files, real-time working status monitoring, historical working status records, status trend charts, equipment control and execution feedback, equipment control records, etc.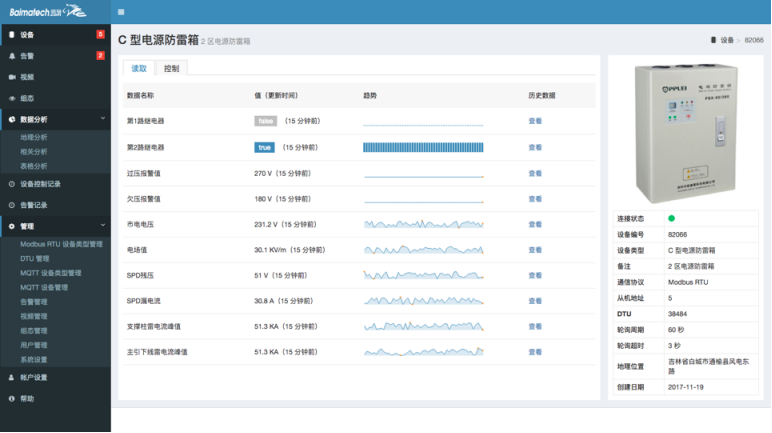 Video access on site
The working pictures and video of the equipment field can be viewed through the unified access platform, which makes the equipment management more intuitive and effective.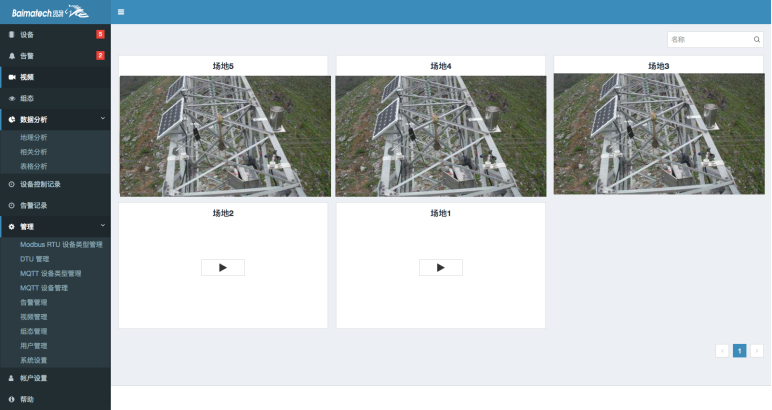 Device data, multidimensional analysis
Conducting multi-dimensional analysis of equipment, including connection status and quantity statistics, geographical distribution analysis, thermal diagram analysis, chart analysis, etc.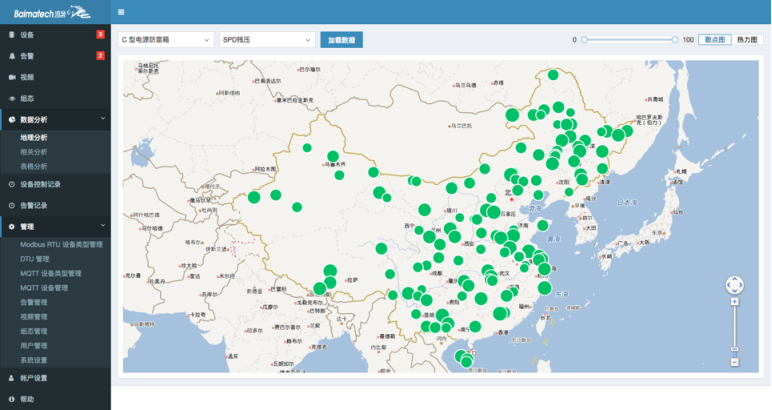 Dynamic cloud configuration, easy to customize the exclusive interface
Baima device cloud platform, with 34 kinds of controls, 180+ vector graphics, 1500+ industrial material pictures, various curves and report control, to help customers easily build their own equipment management interface
Custom warning,easy to manage
According to management needs, customers can customize device alarm parameters and thresholds, set immediate alarm and timeout alarm, device offline alarm, server abnormal alarm, configuration control abnormal warning, and generate alarm records.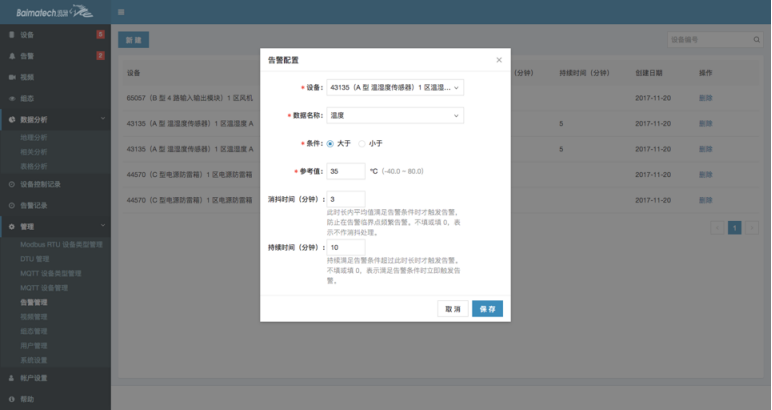 With PC and mobile terminals, controlling at anytime and anywhere
With Web desktop and Web mobile version, device management is not limited by time and location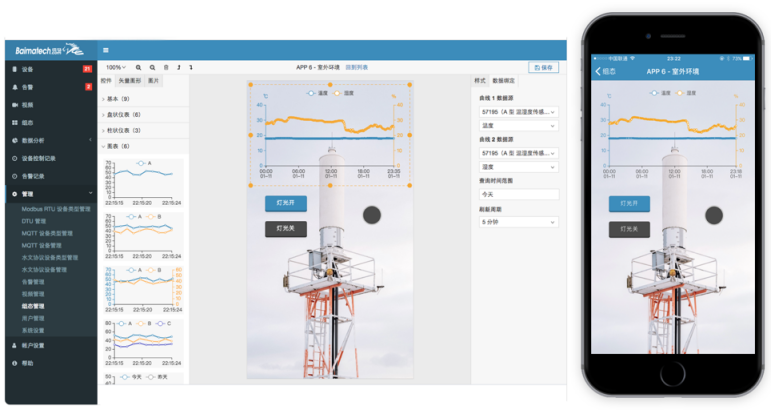 Strong load capacity, massive devices synchronization online
For example, a host with 4-core 4G memory configuration can access 3000 DTU polling cycles of 5 minutes (each DTU can mount 1~247 Modbus RTU devices) or 10000 MQTT protocol devices.
Data security transmission
All terminals, including Web and WeChat, use HTTPS to encrypt data transmission.
Authority management
It has three levels of authority management, including super administrator, project administrator and project members.